SMS HANNOVER (1905) SHIPS PLANS AND IMAGES FOR MODEL MAKERS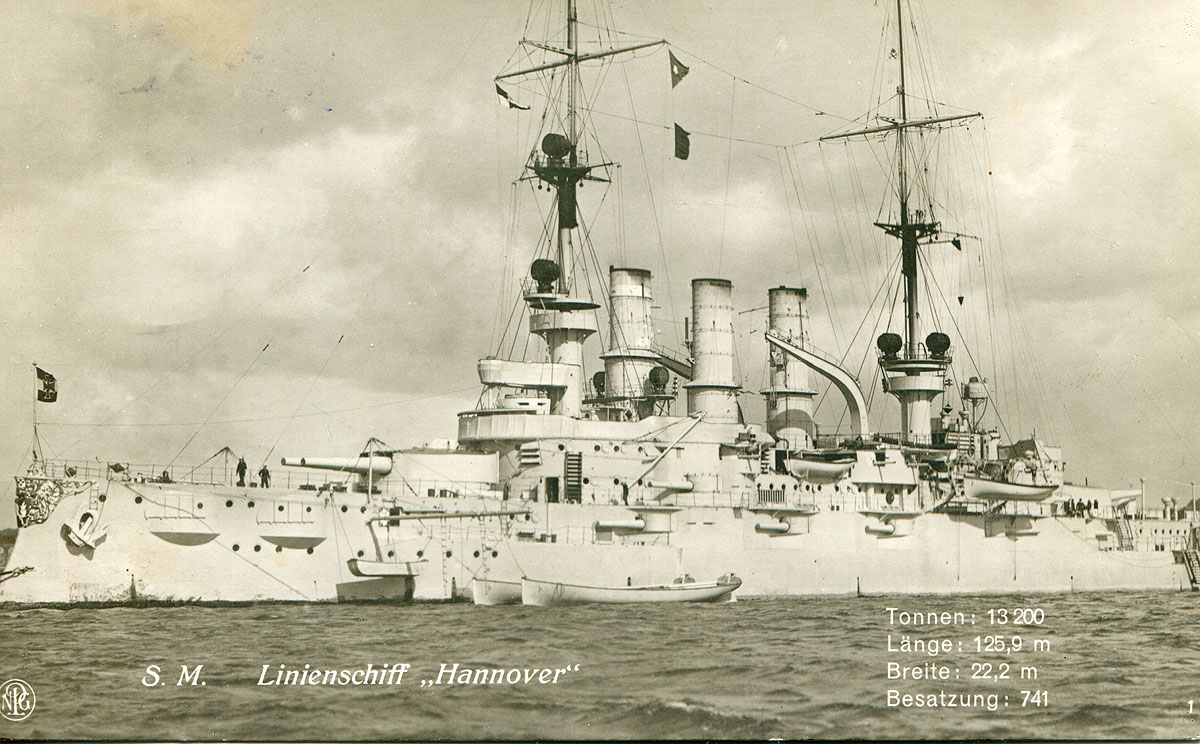 CLICK ON PICTURES FOR LARGER IMAGES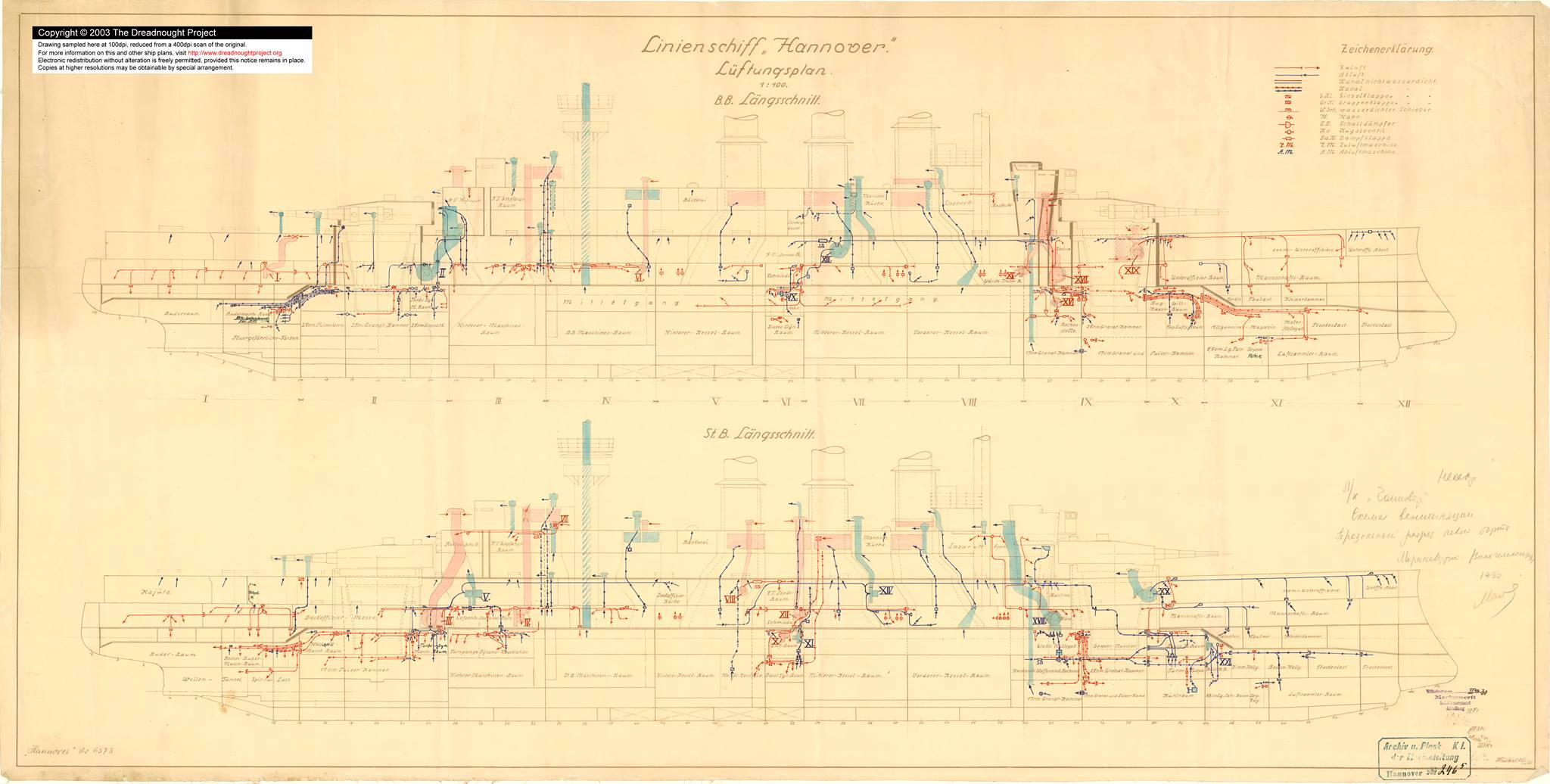 STD SIDE VEIW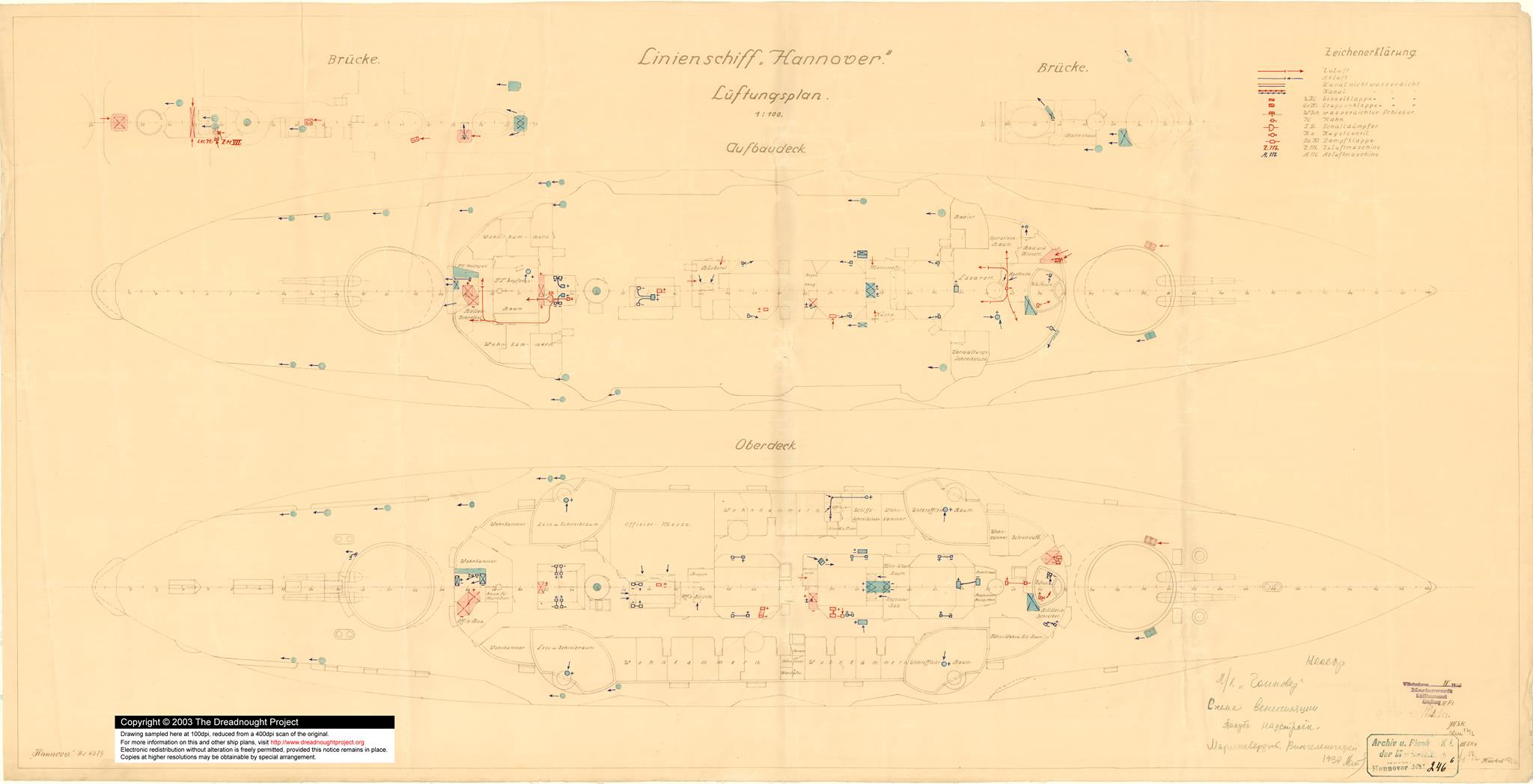 UPPER DECKS SECTION DETAILS

LOWER DECK DETAIL VEIW

LOWER DECK SECTION DETAILS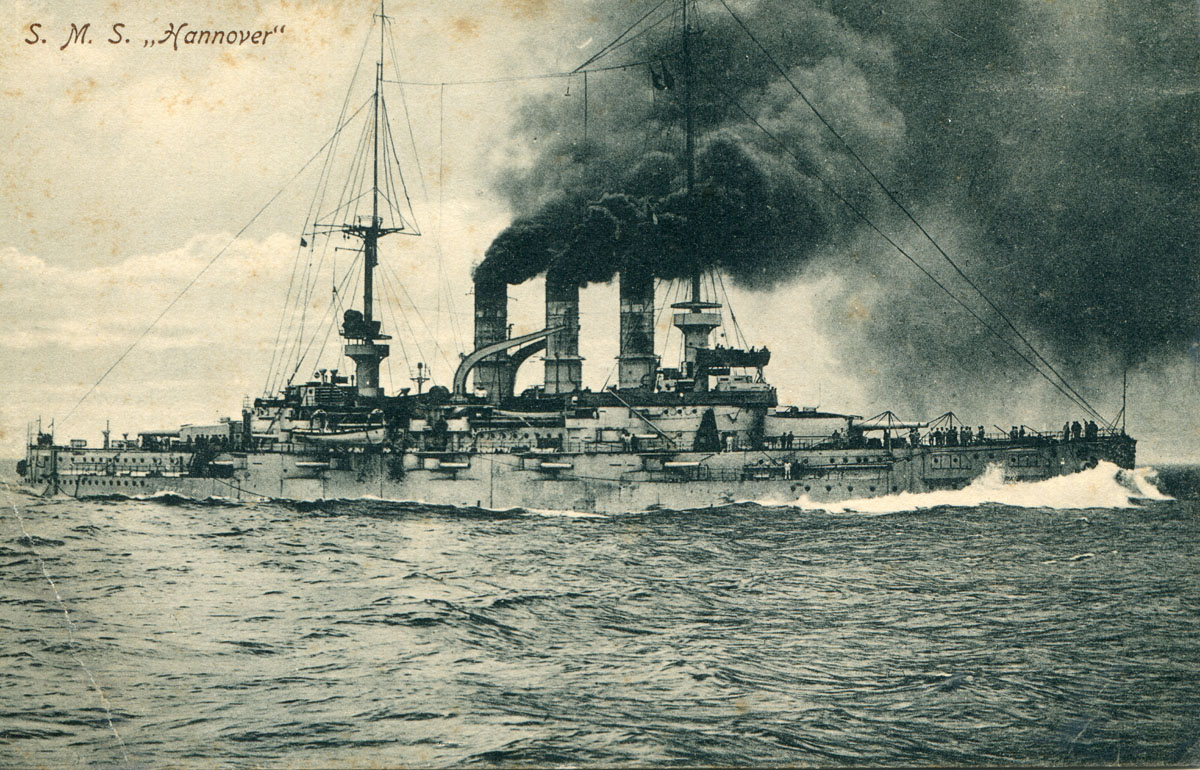 SMS HANNOVER AT SEA DURING WW1
-----
Name: Hannover

Namesake: Province of Hanover

Builder: Kaiserliche Werft Wilhelmshaven

Laid down: 7 November 1904
Launched: 29 September 1905
Commissioned: 1 October 1907

Fate: Scrapped between 1944 and 1946 in Bremerhaven

General characteristics

Class and type: Deutschland-class pre-dreadnought battleship

Displacement:
13,191 t (12,983 long tons) normal
14,218 t (13,993 long tons) full load
Length: 127.60 m (418 ft 8 in)
Beam: 22.20 m (72 ft 10 in)
Draft: 8.21 m (26 ft 11 in)

Propulsion: 17,524 ihp (13,068 kW), three shafts

Speed: 18 knots (33 km/h; 21 mph)

Range: 4,520 nmi (8,370 km; 5,200 mi) at 10 knots (19 km/h; 12 mph)

Complement:
35 officers
708 enlisted men
Armament:
As built:

2 × 2 – 28 cm (11 in) SK L/40 guns
14 × 17 cm (6.7 in) SK L/40 guns
22 × 8.8 cm (3.5 in) SK L/45 naval guns
6 × 45 cm (18 in) torpedo tubes
Armor:
Belt: 100 to 240 mm (3.9 to 9.4 in)
Turrets: 280 mm (11 in)
Deck: 40 mm (1.6 in)

-----
SMS Hannover was the second of five Deutschland-class pre-dreadnoughts of the German Imperial Navy.
Hannover was laid down in November 1904 and commissioned into the High Seas Fleet in October 1907
This was ten months after the revolutionary HMS Dreadnought was commissioned into the Royal Navy.
As a result, Hannover was obsolete as a capital ship before she was even completed.
Dreadnought's more powerful main battery and higher speed would have made it unwise for the Hannover to engage her in battle.
The ship was named after the Prussian province of Hannover, now in Lower Saxony.
Hannover and her sisters saw extensive service with the fleet.
She took part in all major training maneuvers until World War I broke out in July 1914.
Hannover and her sisters were immediately put on guard duties in the mouth of the Elbe River while the rest of the fleet mobilized.
She took part in a number of fleet advances, which culminated in the Battle of Jutland on 31 May – 1 June 1916.
During the battle, Hannover was the flagship for the IV Division of the II Battle Squadron.
After Jutland Hannover and her three surviving sisters were removed from active duty to serve as guard ships.
In 1917, Hannover was briefly used as a target ship before being returned to guard duties in the Baltic Sea.
The ship was decommissioned in December 1918, shortly after the end of the war.
------
Hannover was brought back to active service in the Reichsmarine, the post-war Germany navy.
She served with the fleet for ten years, from 1921 to 1931, before she was again decommissioned.
The navy planned to convert the ship into a radio-controlled target ship but this was never carried out.
The ship was ultimately broken up for scrap between 1944 and 1946 in Bremerhaven.
Her bell is preserved at the Military History Museum of the Bundeswehr in Dresden.
----------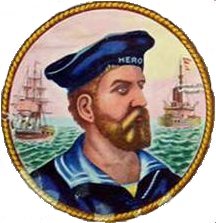 (c) Copyright .................Virtual Dockyard.....................2019